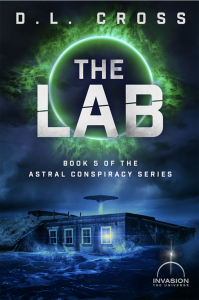 One last mission. One last stand. One last hope.
Time is running out for the planet, and Reverie Sterling — one of the leaders of the Resistance — feels each tick of the clock. Her twins insist on traveling to Illinois to find Jovian, their paternal grandfather, who's been communicating with them telepathically. He swears he has all the answers they've been searching for.
He does, but they come at a cost. A steep cost.
Now Reverie and the Resistance must make their last stand. The Astrals have judged humanity and found it lacking. Annihilation is imminent unless Jovian can deliver on his promise.
Earth's best chance is deep in his laboratory under Monks Mound.
And the old man has one last surprise that no one is expecting.
---
The Lab is the fifth of five novels in the Astral Conspiracy Series, part of Sterling and Stone's Invasion Universe.
---