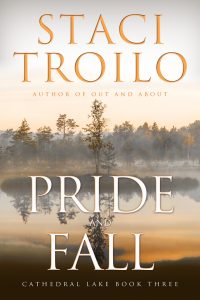 Unchecked fear cripples. Conquered fear liberates.
Faith Keller has suffered much in her life—the murder of her sister, the near-destruction and almost-ruin of her family, and a traumatic abduction. It's no wonder she battles the effects of PTSD on a daily basis. The last thing she needs is to be the subject of an intense police investigation for the very crime her father was blamed for years earlier. Yet, despite her family's staunchest efforts, she finds herself on the hot seat with a tenacious officer—one whose attention she actually relishes.
Carter Emerson takes his job seriously. It's the only tribute he can make to honor his fallen brother, and he's determined to do the title "police officer" justice. When he sets his sights on Faith Keller, he's torn. His mentor tells him he's got it all wrong, but the evidence doesn't lie. The worst part? He doesn't want her to be guilty. He just wants her.
A story of healing and growth, Pride and Fall ends the Keller trilogy with action, deception, and a revelation readers won't see coming.
Click here for purchase information.
---
Also in series:
---
---