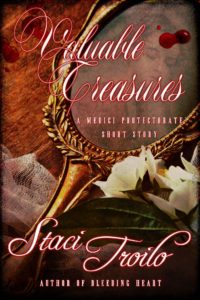 Life in the Colorado mountains isn't easy for immigrants Anita and Ottavio Notaro, particularly when they're isolated on a hillside and barely speak the language.
Anita is carrying their first child, and Tav works many long, hard hours away from home. This isn't the American dream they were promised; this is a brutal life on the frontier.
Tav has been saving money to make their lives easier, and he stumbles on a windfall. The only problem is, he isn't the only one who knows about it. Trouble befalls these two humble Italians, threatening their livelihoods—and their lives.
A strange posse made up of fellow countrymen ride to their rescue. But will they get there in time?
This is a Medici Protectorate Standalone Prequel Short Story. Click here for purchase information.
---
Teaser: