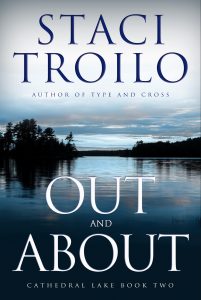 Freedom from jail. Freedom from family.
Jensen Keller covets freedom. Probably because he doesn't have any. He's abided by his father's every whim for years. Until the one time he rebelled. And nearly lost his family. Now he's been summoned back to Cathedral Lake only to discover freedom has been granted to the one person who should be eternally denied it—Wade Unger, the man responsible for his sister's death.
Bella Perish wants nothing more than to be free from her domineering father. In an unexpected turn of events, she's not only granted freedom from him—autonomy is forced on her. And her budding relationship with Jensen looks like collateral damage. As she works to repair the relationships that matter most to her, her new found independence is compromised. Worse, her very life is threatened.
An account of repression, revelation, bravery, and contrition, Out and About chronicles the merits and miseries of freedoms denied and gained.
Click here for purchase information.
---
Also in series:
---
---
Add this book to your Goodreads shelf.