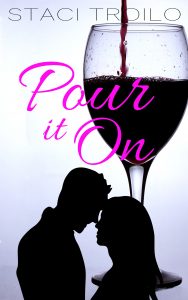 Bold, complex, vibrant. The wine is, too.
Despite Romy Chandler hosting a romantic meet-and-greet at her restaurant, she's all business. When her sommelier quits without any notice—to work for the competition, no less—she goes into mega-mogul-mode. The last thing on her mind is finding a man. She's looking for someone who knows his way around a Bordeaux, not the boudoir.
Rick Santucci grew up in his family's vineyard. After years of hard work, he's turned his grandfather's humble produce farm into a profitable winery. Once he gets their bottles into the right establishments, he'll be able to acquire more land and move into the next phase of the company's expansion. His mother thinks the next stage should be a wife and children, but his sights are set on different fertile grounds.
When Rick and Romy meet, they both forget all about their ambitions. The evening becomes less about revenue than romance, and they get distracted by the music and wine. She thinks he's the man she needs, both in the restaurant and out. He finds her to be the perfect partner on the dance floor and believes she'll be the perfect business partner, too. But a series of mix-ups could put an end to everything they've started—personally and professionally.
Click here for purchase information.
---
Also in series:
---