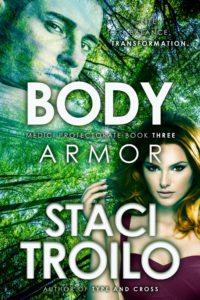 Transformation is progress. Until it implodes.
Pursued across the globe by the forces of a shadowy, unknown enemy, the warriors of the Medici Protectorate face their most dangerous challenge yet in the defense of the Notaro sisters, the secret legacy of the ancient Medici line.
Nico Micelli shows the world a calm, mild-mannered personality, but under the surface simmers ferocious passions he struggles to suppress. To say he has a wild side is an understatement. As his work with the Brotherhood intensifies, he finds it increasingly difficult to temper his emotions. It doesn't help that his charge continuously tests his limits.
Donni Notaro lives under Nico's protection. She and her sisters are in constant danger simply because of their ancestry. Without the protection of the Brothers, their lives would have been forfeit long ago. But that security comes with a cost—her freedom. Essentially sequestered, she becomes Nico's shadow, her clandestine pursuits putting both of them in peril.
To defeat their foes, Nico must not only acknowledge his wild side, he must thoroughly embrace it. But the transformation may take him down a path he can never return from.
Click here for purchase information.
---
Also in series:
---
Teasers:
---
---
Check out this blog post talking about the different powers in the series.
---
Research:
Here's something I didn't expect to include but was pleasantly surprised that it fits into the plot so organically. I have two favorite animals—the sea otter and the wolf. This story lends itself to including wolves in it. No, despite this being a paranormal romance, they will not be werewolves. Just wolves. Italian wolves, to be precise. If you'd like to learn more about this beautiful creature, check out this information.
---
The village of Dozza in Italy is a place that would be of special interest to a designer like Donni.
The center of the town boasts a restored Fortress, which houses (among many other fascinating things) an art collection. Furthermore, the facades of the buildings are painted with various murals, creating an outdoor museum or gallery of sorts.
Prime time to visit is between May and September, because then you can partake in different wine festivals the village offers. Donni is an amateur chef, and she'd really enjoy the gastronomic offerings of Dozza, so Nico picked the perfect location for their date.