Welcome to my website! I'm so glad you're here.
I'm a lover of many different genres, so you'll see I've dabbled all across the board. If you like family drama, suspense, romance, paranormal, western, or even a little humor, I have something to offer you.
I, along with all the other ladies of Story Empire, have come together to create a series written in a shared world. We invite you to journey with us through the generations, following the Hawthorne family and their property atop the fictional Harbor Pointe cliffs in Northern California.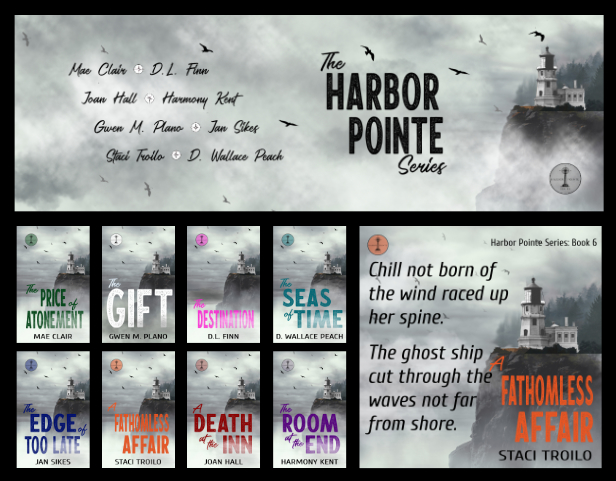 These stories share many commonalities, but they are all stand-alone novellas. You'll find they span various genres, and they also include references to the other tales. You don't have to read them in order, though you may find more Easter eggs if you do. My story, A Fathomless Affair, is the sixth in series and goes live on December 5, 2023, but all eight stories are available for preorder today. For more information, click here.
---
I'm currently working on a few projects. One is a supernatural thriller duology. The first book is done, the second is outlined. I hope to release both within a few months of each other in 2024. A second project is a global thriller that I'm about a third of the way through. The third project is just in beginning stages. Time will tell how it works out. I'll certainly keep you posted.
---
My catalog is pretty varied. I like to say I have something for everyone. That's hyperbole, of course, but it does have broad appeal. Here's a sample:
I've got novellas, a series of vignettes, and lots more coming, too.
For more details of my full catalog, click on "My Work" here or in the menu.
To stay abreast of news, subscribe to my newsletter. 
The newsletter is the best place to keep in touch, as I'm almost never on social media, and I've had to cut back on weekly posts, but occasionally I will have an update on my blog, which you can subscribe to here.
---
Thanks for visiting! Please take a moment to look around. And if you have any questions, just let me know. Hopefully I'll see you in the comments section of my blog. Here are a few of my most recent posts for your consideration:
Ciao, amici. Installment 1 of the Harbor Pointe series is now live! The Harbor Pointe Inn has loomed on California's cliffs for generations of Hawthornes. For some, it's been a blessing. For others, a curse. Travel through two centuries of stories to discover the old inn's secrets. Some hauntings come from within. Leviticus Sinclair has […]

Ciao, amici! Those of you who follow Story Empire got a bonus post yesterday. If you missed it, you'll probably start seeing a few notifications from familiar faces around the blogosphere. And, of course, there's this announcement… The ladies of Story Empire have banded together to write a series of novellas that take place in […]

Ciao, amici! I know I've posted a lot of bad news this year. The trend continues, I'm afraid, though I'm determined to remain as optimistic as possible. I assume many of you have noticed I haven't been blogging or visiting blogs. I've been struggling with my vision for a few years, and when I got […]

In the last six months-ish, I've had to say goodbye to my grandmother, my mother, and my first-ever pet, Casey. That's more death than anyone should have to process in so short a time. My aunt died on Friday, and I knew I couldn't get home to grieve with my family because Max, my second-ever […]