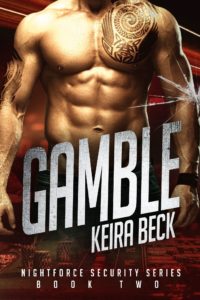 Sometimes the stakes are too high to gamble. Sometimes they're too high not to.
Noah Crawford is a consummate bachelor — until a one-night stand piques his interest in something more. The only problem is, she wouldn't give him her name, and he has no way to find her.
A week later, resigned to forgetting her, he accompanies his friends to a casino. But Noah isn't in the mood for frivolity and sets off on his own. No one is more surprised than he is when he bumps into his mystery woman.
When armed thieves break into the casino and take everyone in the poker room hostage, Noah discovers that not everyone is here to play cards. He is separated from his friends, and the room has been cut off from security. Help isn't coming. It's up to him to keep everyone safe while he tries to thwart the gunmen.
But one of the thieves might have an ace up his sleeve, and gambling with him could cost Noah everything.
Click here for purchase information.
---
Read the beginning:
---
Teasers: